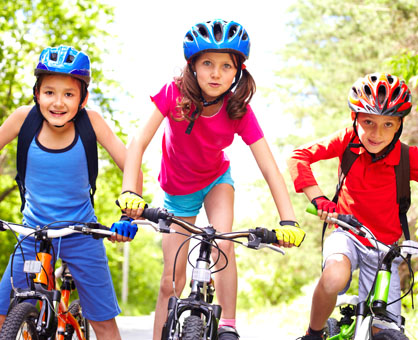 Be a fit kid
Tips for being active every day
1 Tie up your laces and walk
Go for a walk around your neighborhood or walk to your friend's house instead of taking the bus or asking for a ride. Forget the elevator and take the stairs every chance you get! Remember to be safe by using sidewalks and crosswalks.
2 Turn up the music
Shake, rattle and roll to your favorite songs. Turn on some hip hop, country, salsa, or pop music and move your body. Dancing is a great way to get some physical activity.
3 Join a team
Show your team spirit and join a sport at your school or community center. There are tons of fun teams such as basketball, baseball, gymnastics, dancing, soccer, swimming and tennis. Choose an activity that you like and have fun!
4 Go out and play
Ditch the TV and go outside with friends, family and even your pets! Walk your dog. Ride a bike. Make a snowman. Fly a kite. Have a Hula-Hoop contest. Play basketball with friends. Try jumping rope. Or simply play a game of tag.
5 Dive right in!
Go to your local indoor or outdoor pool and swim laps, play water games with friends, or have diving contests for fun.