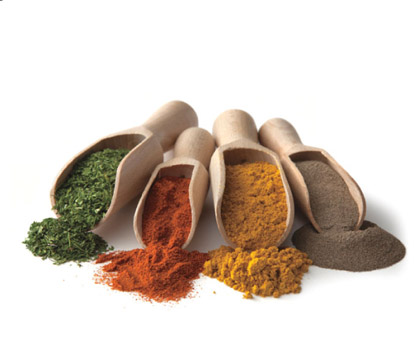 Turn any dish into a Tex-Mex dish with a flavorful spice blend. Add it to your favorite egg, chicken, fish, beef or vegetarian dish.
Tex-Mex Spice Mix
To make, combine 1/4 cup chili powder or chili pepper and 4 teaspoons paprika. Add 2 teaspoons each of ground ginger and salt. Then, 1 teaspoon each black pepper, garlic powder, ground cumin and onion powder. Add 1/2 teaspoon cayenne pepper and 1/4 teaspoon ground thyme. Store in a jar with a tight-fitting lid. Change up traditional dips using the Tex-Mex spice mix.
Tex-Mex Hummus
In bowl of food processor with knife blade attached, pulse 2 (15-ounce) cans of chickpeas (drained), 1/2 cup water, 1/4 cup plus 2 tablespoons tahini, 3 tablespoons plus 2 teaspoons lemon juice, 2 tablespoons olive oil and 1-1/2 teaspoons Tex-Mex Mix until smooth.
Transfer hummus to a bowl. Stir in 1/3 cup chopped cilantro. Serve with assorted vegetables, pita chips or corn chips.
Tex-Mex Guacamole
Mash 4 ripe avocados with 1 tablespoon lemon juice in a bowl, leaving some chunks. Gently stir in 1 ripe Roma tomato, seeded and diced, 1-1/2 teaspoons of Tex-Mex Mix and serve immediately with corn chips.
Tex-Mex Vegetable Dip
Combine 1-1/2 tablespoons Tex-Mex mix with 16 ounces sour cream or Greek yogurt. Stir in 1/4 cup chopped green onions. Chill at least 1 hour. Serve with assorted vegetables, potato chips or corn chips.