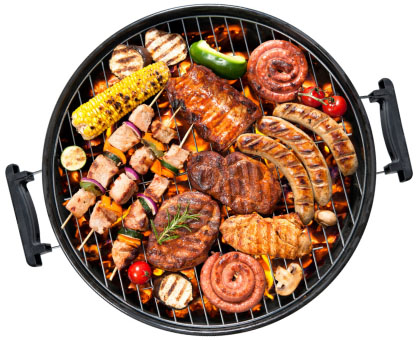 Mother's Day is widely celebrated throughout the world, although the traditions and timing of the holiday can vary. Lucky for us, in the United States we celebrate it during the warmth of spring on the second Sunday in May, so it's easy to give Mom a day off from cooking – all you have to do is fire up the grill!
For a hearty entrée, prepare strip steak with Mom's favorite spice rub and grill to perfection. Add a foil packet with strips of colored peppers or other veggies to the grill and let them steam to a soft crunch. Or, grill seasoned cubes of steak on skewers, alternated with chunks of red and green peppers, onions and cherry tomatoes. Serve kabobs with grilled potato wedges seasoned with herbs and Parmesan cheese.
Chicken breast is a grilling favorite as well; use spice rubs or marinades to pack a punch of flavor. Refrigerate for a couple of hours to allow the flavors to penetrate. Jamaican jerk rub gives chicken a slightly sweet heat that can be enhanced with raspberry chipotle sauce on the side. Served with rice and fresh green beans, it's a complete meal. For simple but bright spring flavors, grill chicken breast seasoned with salt, pepper and ground cumin. Top with fresh pico de gallo. Or, make a dinner salad and top a bed of romaine, arugula, endive and radicchio with strips of grilled, marinated chicken breast. Garnish with a few cherry tomatoes and drizzle with a tangy balsamic vinaigrette.
Create an all-too-easy appetizer of grilled shrimp and purchased (or homemade) remoulade sauce. Take it to the next level with skewers of pineapple chunks, shrimp and grape tomatoes served with a side of sweet chili sauce for dipping. Shrimp skewers accompanied by grilled corn on the cob and summer veggies are another easy meal Mom will love (as long as you make it for her!).
| | | | |
| --- | --- | --- | --- |
| | 1 | 2 | 3 |
| Steak | Rub steaks with oil, then with your favorite steak seasoning. | Let stand at room temperature for 15 minutes. | Grill over medium-high heat until internal temperature of steak reaches 140° for medium. Cooking times will vary based on the thickness of the steak and grill variances. Tent steak with foil and let stand 10 minutes. |
| Chicken | Place chicken in a zip-top plastic bag. Pour your favorite marinade over chicken; seal bag, pressing out excess air. | Refrigerate up to 2 hours to marinate. | Grill over medium heat until internal temperature of chicken reaches 165°. |
| Shrimp | Thread shrimp onto wooden skewers that have been soaked in water for 20 minutes. Intermingle with vegetables, if desired. | Brush kabobs with oil and sprinkle with salt and pepper. | Grill until shrimp turn opaque throughout, turning kabobs once. |