Adding fruits and veggies to your plate is a good idea at any time of year. If you struggle to keep fresh produce, purchase frozen fruits and vegetables instead. They're convenient to keep on hand and will add a boost of nutrition to your dish.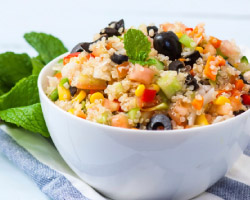 Vegetable Quinoa Salad
Enjoy a protein-packed dinner with a simple salad made with quinoa and mixed frozen vegetables. Prepare vegetables and quinoa according to package instructions. Drain vegetables well. Mix ingredients together with a tablespoon of extra virgin olive oil and a splash of white wine vinegar. Salt and pepper to taste and garnish with crumbled feta cheese if desired.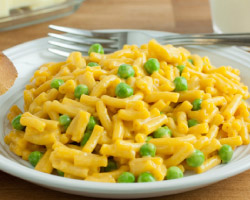 Mac & Cheese and Peas, Please
Add a boost of green to your favorite packaged mac & cheese with the addition of frozen peas. Cook the mac & cheese and peas according to package instructions. Drain peas well and stir into mac & cheese. For added flavor, stir in diced ham.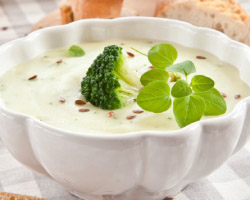 Super Fast Potato & Broccoli Chowder
This chowder can be ready in a flash and with very little effort. In a large pot, bring 32 ounces chicken broth and 1-1/2 cups milk to a boil. Toss in 10 ounces of frozen chopped broccoli, 1 cup of dried potato flakes, and 8 ounces of shredded Cheddar cheese; stir until thickened. Remove from heat and serve immediately.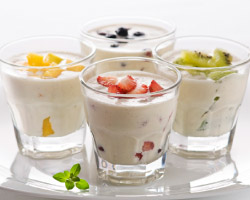 Breakfast on the Run
First, using an 8-ounce container with a tight-fitting lid, fill 2/3 full with plain or vanilla yogurt. Top with your favorite frozen fruit. Drizzle with honey and add a dash of cinnamon. Cover tightly with lid. The frozen berries will keep your yogurt cool on your ride to work or school.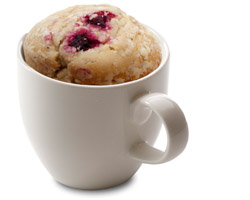 Blueberry Muffin in a Mug
In a large coffee mug, stir together 2 tablespoons almond flour, 1 tablespoon coconut flour, 1/4 cup thawed, frozen blueberries, 1/2 teaspoon vanilla extract, 3 tablespoons almond milk, 1 egg, 1 tablespoon honey, and a pinch of salt. Microwave for 2 minutes. Allow mug to cool for 2 minutes. Eat muffin out of mug with a fork.