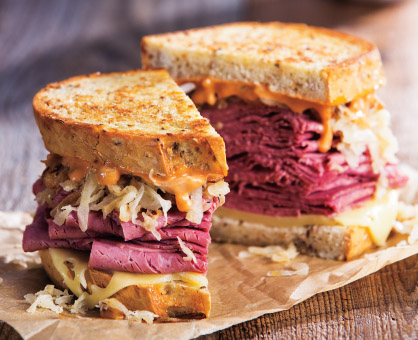 Step 1: Fill it
On two slices of rye bread, spread an even layer of butter on one side of each slice. Lay one slice, butter side down, on a grill pan or skillet. Top bread with Swiss cheese slices, multiple layers of corned beef and sauerkraut. Spread other slice of bread with Thousand Island dressing and place, butter side up, over sauerkraut.
Step 2: Grill it
Grill the sandwich over medium heat until browned and the cheese is melted, turning once. Cut in half and serve!
Try marbled rye, sharp Cheddar cheese and a grainy Dijon mustard on your sandwich for a classic twist.