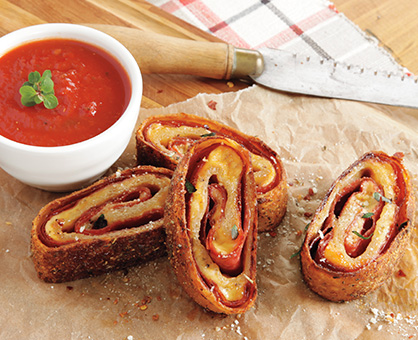 Prep: 10 minutes plus chilling
Bake: 25 minutes • Serves: 6
Nonstick cooking spray
2 tablespoons grated Parmesan cheese
1 teaspoon dried Italian seasoning
1 package (11 ounces) refrigerated thin crust pizza dough
6 ounces sliced pepperoni sausage and/or salami
1-1/2 cups shredded pizza cheese blend
1-1/2 teaspoons finely chopped fresh oregano leaves
1-1/2 cups pizza sauce
1. Preheat oven to 350°. Spray rimmed baking pan with nonstick cooking spray. In small bowl, combine Parmesan cheese and Italian seasoning.
2. Unroll pizza crust dough onto baking pan; stretch dough to 10 x 14-inch rectangle. Leaving 1/2-inch border, layer pepperoni over dough; sprinkle with pizza cheese and oregano. Starting from long end, roll up dough and fillings; seal edge with a fork and place roll seam side down on pan. Gently rub Parmesan cheese mixture over outside of roll; refrigerate 15 minutes.

3. Bake roll 25 to 30 minutes or until golden brown. Slice into 1-inch pieces and serve with pizza sauce.

Approximate nutritional values per serving:
301 Calories, 22g Fat (11g Saturated),
58mg Cholesterol, 902mg Sodium,
11g Carbohydrates, 2g Fiber, 15g Protein