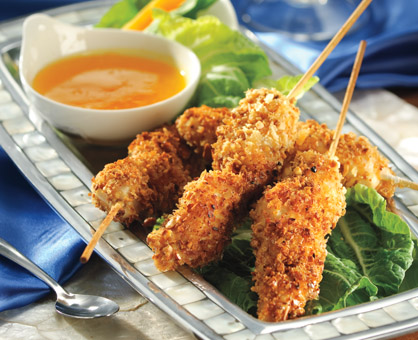 Cashew Chicken Skewers with Orange Sauce
Prep: 20 minutes
Bake: 12 minutes • Serves: 8
2 cups salted cashews (about 1 pound)
1-1/2 cups all-purpose flour
1/2 teaspoon cayenne pepper
3 large eggs
2 cups panko breadcrumbs
Nonstick cooking spray
1-3/4 pounds chicken breast tenderloins
(8-inch) bamboo or wooden skewers (about 44)
1 cup orange marmalade
1 cup refrigerated orange juice
2 teaspoons fresh lemon juice
1/8 teaspoon ground ginger
1. Adjust 2 oven racks to top and bottom position. Preheat oven to 400°. Place cashews in large zip-top plastic bag. Wrap bag with towel and lightly pound cashews with meat mallet or rolling pin until coarsely crushed. In large shallow dish, combine flour and 1/4 teaspoon cayenne pepper. In second large shallow dish, whisk together eggs and 3 tablespoons water. In third large shallow dish, combine breadcrumbs and crushed cashews.
2. Spray 2 rimmed baking pans with nonstick cooking spray. With kitchen shears or knife, cut tenderloins lengthwise in half. Thread chicken onto skewers; dip in flour mixture, shaking off excess, then egg and cashew mixtures. Place on prepared baking pans. Bake skewers on top and bottom oven racks 12 to 15 minutes or until lightly browned and internal temperature reaches 165°, rotating pans between upper and lower racks halfway through baking.

3. Meanwhile, purée marmalade, orange juice, lemon juice, ginger and remaining 1/4 teaspoon cayenne pepper in blender until smooth. Serve sauce with chicken skewers.

Approximate nutritional values per serving:
557 Calories, 19g Fat (4g Saturated), 119mg Cholesterol,
451mg Sodium, 70g Carbohydrates, 4g Fiber, 30g Protein