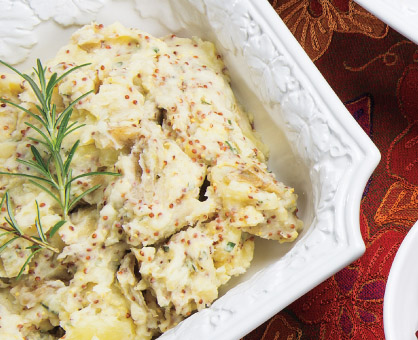 Rustic Smashed Potatoes with Stir-Ins
Prep: 20 minutes
Cook: 25 minutes • Serves: 12
4
pounds Yukon gold potatoes (about 9 medium), unpeeled, cut into 2-inch chunks
1-1/4
cups half and half
6
tablespoons unsalted butter
1-1/2
teaspoons kosher salt
1/4
teaspoon fresh ground black pepper
1. In large covered saucepot, heat potatoes and enough salted water to cover to boiling over high heat. Simmer, uncovered, 15 to 20 minutes or until potatoes are very tender.

2. Drain potatoes well. In same saucepot, heat half-and-half, butter, salt, pepper and stir-in of choice, if using, to simmering over medium heat. Return potatoes to saucepot. With potato masher, mash potatoes until they are slightly chunky. Heat through over medium heat, stirring occasionally. Makes about 10 cups.

Approximate nutritional values per serving:
187 Calories, 8g Fat (5g Saturated), 24mg Cholesterol,
270mg Sodium, 25g Carbohydrates, 4g Fiber, 3g Protein

Stir-Ins
Gouda, Roasted Garlic & Chive
Prep: 5 minutes • Roast: 45 minutes

4
heads garlic
2
teaspoons olive oil
8
ounces Crystal Farms
®
gouda cheese, shredded
2
packages (2/3 ounce each) fresh chives, chopped (about 1/2 cup)
1. Preheat oven to 400°. With serrated knife, cut ½ inch from top of each head of garlic to expose top of cloves; discard tops. Place garlic, cut side up, on sheet of aluminum foil; drizzle oil over cut side of garlic. Wrap foil tightly around garlic. Roast 40 to 45 minutes or until cloves are very soft. Carefully open foil. When cool enough to handle, squeeze each garlic clove out of its skin and roughly chop.

Approximate nutritional values per serving:
74 Calories, 6g Fat (3g Saturated), 21mg Cholesterol,
154mg Sodium, 1g Carbohydrates, 0g Fiber, 5g Protein
Bacon-Cheddar & Green Onion
Prep: 5 minutes
6
ounces Crystal Farms bacon-Cheddar cheese, shredded
6
green onions, thinly sliced (about 3/4 cup)
Approximate nutritional values per serving:
47 Calories, 4g Fat (2g Saturated), 10mg Cholesterol,
198mg Sodium, 1g Carbohydrates, 0g Fiber, 3g Protein