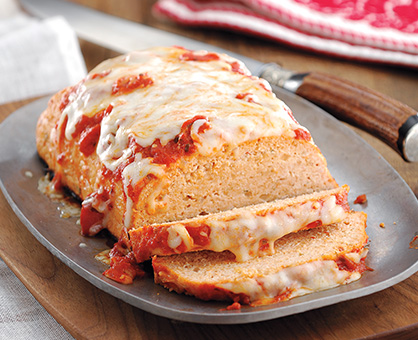 Prep: 15 minutes plus standing
Bake: 45 minutes • Serves: 8
Nonstick cooking spray
2 large eggs
2 pounds ground chicken
3 garlic cloves, crushed with press
1 small onion, minced (about 1/2 cup)
1 cup shredded Italian cheese blend
1/2 cup panko breadcrumbs
1 teaspoon dried Italian seasoning
1/2 teaspoon salt
1 cup chunky marinara sauce
1. Preheat oven to 400°. Line rimmed baking pan with aluminum foil; spray foil with nonstick cooking spray.
2. In large bowl, lightly beat eggs. Add chicken, garlic, onion, 1/2 cup cheese, breadcrumbs, Italian seasoning, salt and 1/2 cup marinara sauce until just combined; do not overmix. In prepared pan, shape chicken mixture into 10 x 5-inch loaf.

3. Bake meatloaf 40 minutes. Remove meatloaf from oven. Spread remaining 1/2 cup marinara sauce over meatloaf and sprinkle with remaining 1/2 cup cheese. Bake 5 to 10 minutes longer or until cheese melts and internal temperature reaches 165°. Let meatloaf stand 5 minutes before slicing.


Approximate nutritional values per serving:
239 Calories, 12g Fat (5g Saturated),
135mg Cholesterol, 465mg Sodium,
8g Carbohydrates, 1g Fiber, 22g Protein