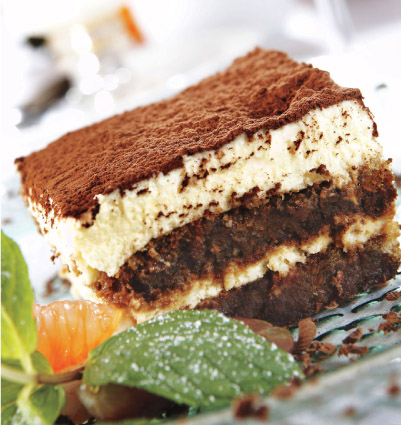 Tiramisu
Prep: 20 minutes plus chilling • Serves: 9
1
package (1 ounce) vanilla sugar-free fat-free reduced calorie pudding & pie filling
2
cups fat-free skim milk
1
container (15 ounces) fat-free ricotta cheese
1
container (8 ounces) whipped topping, thawed
6
tablespoons cooled brewed coffee
1-1/2
teaspoons brandy
1/2
teaspoon vanilla extract
1
Sweet P's round angel food cake
3
teaspoons unsweetened cocoa powder plus additional for serving
1. Prepare pudding as label directs with milk. In small bowl, whisk ricotta until smooth and creamy; stir into prepared pudding. Fold whipped topping into pudding mixture until just combined.

2. In small bowl, combine coffee, brandy and vanilla extract.

3. Slice cake horizontally into thirds, then cut each layer into 1-1/2 x 3-inch pieces. Place 1/2 of the cake pieces into bottom of 8 x 8-inch glass or metal baking dish in single layer, packing pieces close together and breaking as needed to fill any gaps. Sift 1-1/2 teaspoons cocoa powder over cake and brush cake with 1/2 of the coffee mixture. With rubber spatula, evenly spread 1/3 of the pudding mixture over cake pieces. Repeat layers with remaining cake, cocoa powder, coffee mixture and pudding mixture.

4. Cover and refrigerate at least 4 hours or up to 24 hours. To serve, sift cocoa powder evenly over cake and cut into 9 squares.

Approximate nutritional values per serving:
227 Calories, 4g Fat (4g Saturated), 14mg Cholesterol,
493mg Sodium, 35g Carbohydrates, 1g Fiber, 8g Protein