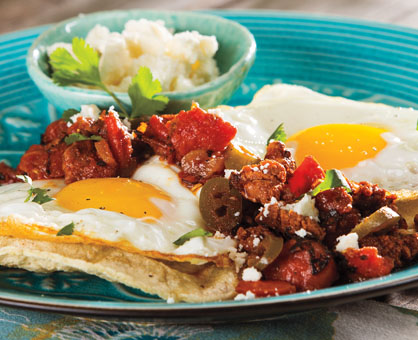 Prep: 10 minutes
Bake/Cook: 20 minutes • Serves: 2
5 ounces spicy pork and/or beef sausage, casings removed if necessary
1/2 small onion, finely chopped
1/8 teaspoon ground cumin
1 can (15 ounces) diced tomatoes, undrained
1/4 cup drained, sliced pickled jalapeño chile peppers
4 (6-inch) corn tortillas
1 teaspoon olive oil
4 large eggs
1/2 cup crumbled feta cheese
2 tablespoons coarsely chopped fresh cilantro leaves

1. Preheat oven to 450°. In large nonstick skillet, cook sausage over medium heat 5 to 6 minutes or until cooked through, breaking up meat with side of spoon. With slotted spoon, transfer sausage to bowl; cover to keep warm. In same skillet with remaining fat, cook onion 4 to 5 minutes or until soft, stirring occasionally. Stir in cumin and cook 30 seconds. Add tomatoes and jalapeños, and heat to simmering; reduce heat to low and cook 8 to 10 minutes or until mixture thickens slightly, stirring occasionally; stir in sausage.
2. Meanwhile, place tortillas on cookie sheet. Bake 3 to 5 minutes or to desired crispness; keep warm. In separate large nonstick skillet, heat oil over medium heat. Add eggs and cook 4 to 5 minutes or until egg whites are cooked through and yolks are soft.

3. To serve, place 2 tortillas on each of 2 dinner plates; top each tortilla with 1 egg. Evenly spoon sausage mixture over eggs and tortillas; evenly sprinkle with cheese and cilantro.


Approximate nutritional values per serving:
644 Calories, 37g Fat (15g Saturated), 456mg Cholesterol,
1505mg Sodium, 35g Carbohydrates, 2g Fiber, 32g Protein