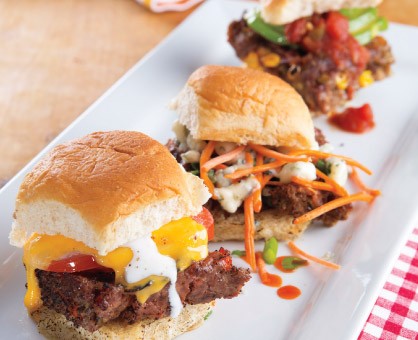 Sliders 3-Ways
Prep: 15 minutes
Bake: 30 minutes • Serves: 6
Slider Base
Nonstick cooking spray
2 pounds 90% lean ground beef
3 cup plain breadcrumbs
12 slider buns, dinner rolls or small sweet Hawaiian rolls, heated according to package directions

Rancher Style
1 package (2.1 ounces) fully cooked bacon, finely chopped
1 package (1 ounce) ranch salad dressing and seasoning mix (3 tablespoons)
1 package (.66 ounces) chives, finely chopped (about 1/4 cup)
1/2 red bell pepper, finely chopped (about 1/2 cup)
1/2 cup sour cream
6 slices American cheese

Topping Suggestions
Thinly sliced Roma tomatoes, prepared ranch dressing
Buffalo Style
3 green onions, thinly sliced (about 1/4 cup)
1/2 cup buffalo wings sauce
1-1/2 teaspoons celery salt
4 ounces blue cheese, crumbled (about 1 cup)

Topping Suggestions
Shredded carrots, sliced green onions, additional buffalo wings sauce

Mexicali Style
1 can (4 ounces) diced mild green chiles, drained (about 1/2 cup)
1 package (1.25 ounces) taco seasoning mix (about 5 tablespoons)
1/2 small red onion, finely diced (about 1/2 cup)
1/2 cup drained canned, fresh or thawed frozen corn
1 cup shredded pepper Jack cheese (about 4 ounces)

Topping Suggestions
Thinly sliced avocado, prepared salsa

1. Preheat oven to 425°. Spray 13 x 9-inch metal baking pan with nonstick cooking spray. In large bowl, gently mix beef, breadcrumbs and desired style ingredients (Rancher, Buffalo or Mexicali), except buns, cheese and toppings, until just combined; do not overmix. Evenly press beef mixture into prepared pan.
2. Bake 25 to 30 minutes or until internal temperature of beef mixture reaches 160°. Remove pan from oven; carefully drain liquid from pan. Evenly sprinkle beef mixture with cheese and bake 3 to 5 minutes longer or until cheese melts. Cut into 12 equal burgers and serve on buns with toppings of choice, if desired.
Rancher
Approximate nutritional values per serving (2 sliders): 
613 Calories, 28g Fat (14g Saturated), 136mg Cholesterol,
1345mg Sodium, 36g Carbohydrates, 2g Fiber, 46g Protein
Buffalo
Approximate nutritional values per serving (2 sliders):
493 Calories, 20g Fat (10g Saturated), 118mg Cholesterol,
1328mg Sodium, 32g Carbohydrates, 1g Fiber, 40g Protein
Mexicali
Approximate nutritional values per serving (2 sliders): 
525 Calories, 20g Fat (9g Saturated), 118mg Cholesterol, 
1160mg Sodium, 39g Carbohydrates, 3g Fiber, 41g Protein