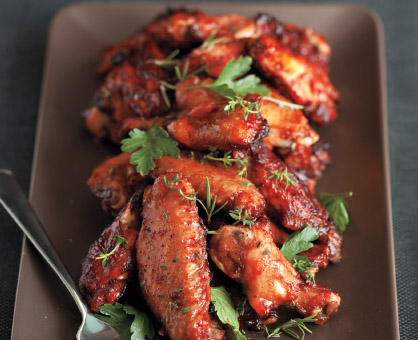 Grilled Buffalo Chicken Wings with Creamy Blue Cheese Dip
Prep: 20 minutes
Grill: 25 minutes • Serves: 8
Creamy Blue Cheese Dip
1/2 cup mayonnaise
1/4 cup crumbled blue cheese (about 1 ounce)
1/4 cup Breakstone's sour cream
1 tablespoon fresh lemon juice
Grilled Buffalo Chicken Wings
3 pounds chicken wings
Nonstick cooking spray
1 teaspoon salt
1/2 teaspoon ground black pepper
1/2 cup unsalted butter (1 stick)
1 bottle (12 ounces) Frank's® RedHot® cayenne pepper sauce
2 tablespoons honey
Fresh herbs such as cilantro leaves, rosemary sprigs and/or thyme sprigs (optional)
1. Prepare Creamy Blue Cheese Dip: In small bowl, stir mayonnaise, blue cheese, sour cream and lemon juice until well combined. Cover and refrigerate until ready to serve. Makes about 1 cup.
2. Prepare Grilled Buffalo Chicken Wings: Prepare outdoor grill for direct grilling over medium heat. Remove wing tips from chicken wings, then cut each wing in half at joint. Thoroughly spray wings with cooking spray; sprinkle with salt and pepper. Place wings on hot grill rack; cook 25 to 30 minutes or until wings lose their pink color throughout and internal temperature reaches 165°, turning every 5 minutes. If wings begin to burn, transfer to cooler part of grill. Transfer wings to large bowl.

3. Meanwhile, in medium saucepot, melt butter over medium heat. Stir in cayenne pepper sauce and honey; heat to simmering. Simmer 5 minutes or until slightly thickened. Makes about 2 cups.
4. Pour sauce over wings and toss until well coated with sauce. Serve wings with Creamy Blue Cheese Dip; garnish with fresh herbs, if desired.

Approximate nutritional values per serving:
416 Calories, 37g Fat (21g Saturated), 106mg Cholesterol,
1784mg Sodium, 9g Carbohydrates, 0g Fiber, 18g Protein