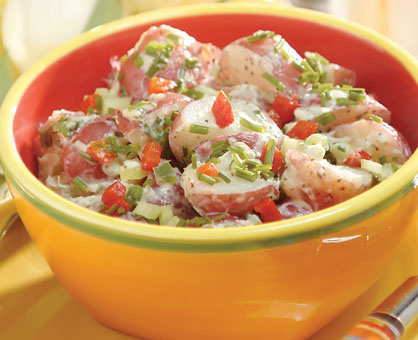 Prep: 25 minutes plus cooling and chilling
Cook: 20 minutes • Serves: 6
3 pounds new potatoes (about 20 potatoes)
1/2 cup plain yogurt
1/4 cup horseradish sauce
1/4 cup mayonnaise
1 tablespoon apple cider vinegar
1 teaspoon Dijon mustard
1/2 teaspoon celery seed
1/2 teaspoon kosher salt
1/4 teaspoon ground black pepper
1-1/2 medium celery ribs, finely chopped
1/2 green bell pepper, finely chopped
1/4 cup finely grated white onion
2 tablespoons drained and chopped pimientos
2 tablespoons chopped fresh chives

1. Heat large covered saucepot of salted water and potatoes to boiling over high heat. Reduce heat and simmer uncovered 20 minutes or until potatoes are just tender. Drain and let cool.

2. Meanwhile, in medium bowl, combine yogurt, horseradish sauce, mayonnaise, vinegar, mustard, celery seed, salt and pepper.

3. Cut potatoes into quarters and place in large bowl. With rubber spatula, fold in celery, bell pepper, onion, pimientos and yogurt mixture, and mix until combined.

4. Cover and refrigerate at least 2 hours before serving. Sprinkle with chives just before serving.


Approximate nutritional values per serving:
293 Calories, 10g Fat (3g Saturated), 11mg Cholesterol,
222mg Sodium, 44g Carbohydrates, 4g Fiber, 6g Protein