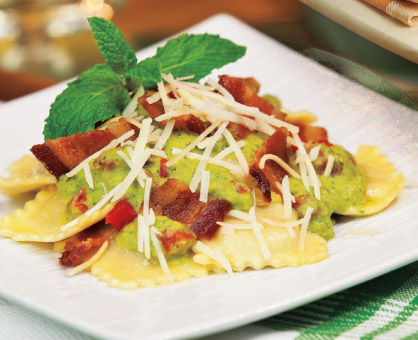 Prep: 15 minutes • Cook: 10 minutes
Serves: 4 as main course or 6 as side dish
2 packages (9 to 10 ounces each) cheese ravioli
6 strips vegetarian bacon
2 cups frozen green sweet peas, thawed
3 tablespoons extra virgin olive oil
2 tablespoons coarsely chopped fresh mint leaves plus sprigs for garnish (optional)
5 teaspoons fresh lemon juice
1/4 teaspoon salt
1/2 teaspoon ground black pepper
1/4 cup drained and chopped roasted red peppers
1/4 cup drained and chopped sun-dried tomatoes in oil
1/4 cup shredded Parmesan cheese

1. Heat large covered saucepot of salted water to boiling over high heat. Add ravioli and cook as label directs. Drain ravioli and reserve 1/2 cup cooking water; keep ravioli warm.

2. Meanwhile, cook bacon in microwave oven in single layer on microwave-safe plate as label directs; cool and coarsely chop.

3. In blender, purée peas, oil, mint, lemon juice, salt, pepper and reserved 1/2 cup cooking water. Transfer pea mixture to small saucepot. Stir in roasted red peppers and sun-dried tomatoes, and cook over medium heat 4 to 5 minutes or until heated through, stirring occasionally. To serve, spoon sauce over ravioli; sprinkle with bacon and cheese. Garnish with mint sprigs, if desired.

Approximate nutritional values per serving:
650 Calories, 31g Fat (8g Saturated), 70mg Cholesterol,
1639mg Sodium, 66g Carbohydrates, 8g Fiber, 27g Protein