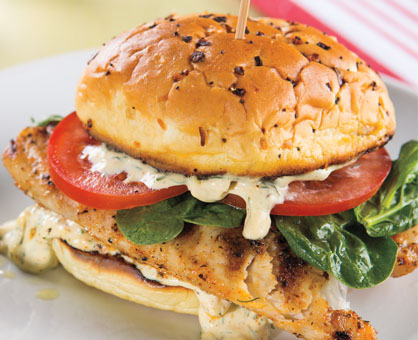 Prep: 15 minutes
Grill: 6 minutes • Serves: 4
1/2 cup light mayonnaise
2 tablespoons Dijon mustard
1 tablespoon fresh lemon juice
2 teaspoons chopped fresh dill fronds
1-1/2 teaspoons Creole or Cajun seasoning
1 teaspoon lemon zest
4 tilapia fillets (about 1-1/4 pounds)
Nonstick cooking spray
4 onion buns
1 cup baby spinach leaves
2 medium Roma tomatoes, thinly sliced

1. Prepare outdoor grill for direct grilling over medium heat. In small bowl, stir mayonnaise, mustard, lemon juice, dill, 1/2 teaspoon Creole seasoning and lemon zest until well combined; cover and refrigerate until ready to serve.

2. Sprinkle both sides of tilapia with remaining 1 teaspoon Creole seasoning and spray with nonstick cooking spray. Place tilapia on hot grill rack and cook 6 to 8 minutes or until tilapia turns opaque throughout and internal temperature reaches 145°, turning once halfway through cooking. Place buns, cut side down, on grill and cook 1 minute or until toasted.

3. Spread about 2 tablespoons mayonnaise mixture on cut sides of each bun. Fill buns with tilapia, spinach and tomato slices to serve.


Approximate nutritional values per serving:
401 Calories, 8g Fat (1g Saturated), 71mg Cholesterol,
775mg Sodium, 47g Carbohydrate, 2g Fiber, 32g Protein

Get inspired
Try different herbs in the mayonnaise mixture such as basil, chives
or tarragon, or mix it up with your favorite herb combination.