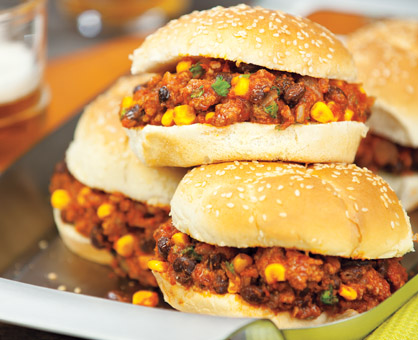 South of the Border Sloppy Joes
Prep: 15 minutes
Cook: 6 hours • Serves: 6
1 pound 90% lean ground sirloin
1 medium onion, chopped
1 can (15 ounces) tomato sauce
1/2 cup rinsed and drained canned black beans
1/2 cup frozen corn
1/4 cup tomato paste
2 tablespoons light brown sugar
1-1/2 tablespoons chipotle pepper hot sauce
3/4 teaspoon ground cumin
1/2 teaspoon ground coriander
1/2 cup loosely packed fresh cilantro leaves, chopped
6 sesame hamburger buns
1. In large skillet, cook beef and onion over medium-high heat 5 to 7 minutes or until browned, breaking up meat with side of spoon.
2. In 5- to 6-quart slow-cooker bowl, combine beef mixture, tomato sauce, beans, corn, tomato paste, brown sugar, hot sauce, cumin and coriander, stirring to mix well. Cover and cook on low 6 to 8 hours or on high 3 to 4 hours. Makes about 4 cups.

3. To serve, stir in cilantro. Split buns, and toast or warm, if desired. Evenly spoon beef mixture over bottom halves of buns; replace top halves and serve.

Approximate nutritional values per serving:
204 Calories, 8g Fat (3g Saturated), 38mg Cholesterol,
528mg Sodium, 17g Carbohydrates, 3g Fiber, 14g Protein