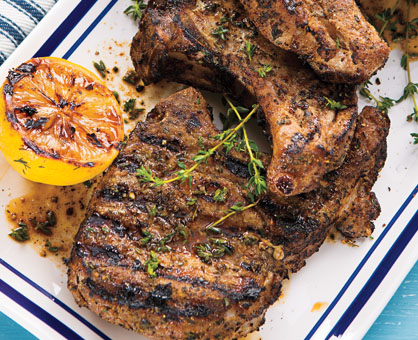 Lemon-Thyme Grilled Pork Chops
Prep: 10 minutes plus standing
Grill: 10 minutes • Serves: 4
1-1/2 tablespoons light brown sugar
2 teaspoons ground coriander
1 teaspoon chopped fresh thyme leaves
1 teaspoon garlic powder
1 teaspoon ground ginger
1 teaspoon salt
1 teaspoon freshly ground black pepper
4 bone-in pork loin chops (about 2 pounds)
2 small lemons, cut in half

1. Prepare outdoor grill for direct grilling over medium-high heat. In small bowl, stir brown sugar, coriander, thyme, garlic powder, ginger, salt and pepper until well combined. Evenly coat both sides of pork chops with spice mixture.

2. Place pork chops and lemons, cut side down, on hot grill rack. Cook pork chops 10 to 12 minutes or until internal temperature reaches 145°, turning once halfway through cooking; cook lemons 5 to 6 minutes or until light grill marks appear.

3. Transfer pork chops and lemons to serving platter. Loosely cover with aluminum foil and let stand 5 minutes. Serve pork chops with lemons for squeezing over pork.


Approximate nutritional values per serving:
318 Calories, 15g Fat (6g Saturated), 87mg Cholesterol,
654mg Sodium, 8g Carbohydrates, 1g Fiber, 32g Protein