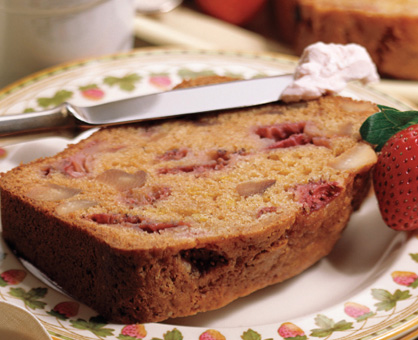 Cranberry-Nut Loaf
Prep: 15 minutes plus cooling • Bake: 50 minutes • Serves: 12

Nonstick baking spray
1-1/2 cups unbleached white whole wheat flour
3/4 cup packed light brown sugar
1/2 cup all-purpose flour
1-1/2 teaspoons baking powder
1 teaspoon ground cinnamon
1/2 teaspoon baking soda
1/2 teaspoon salt
1/4 teaspoon ground cloves
1 large egg
1 cup refrigerated orange juice
2 tablespoons unsalted butter, melted
1 teaspoon vanilla extract
1/2 (12-ounce) bag whole fresh cranberries (1-1/2 cups)
1/2 cup shelled walnuts
1. Preheat oven to 350°. Spray 9 x 5-inch loaf pan with nonstick baking spray. In medium bowl, whisk together flours, brown sugar, baking powder, cinnamon, baking soda, salt and cloves, breaking up any lumps and stirring until well mixed.

2. In large bowl, lightly whisk egg. Whisk in orange juice, butter and vanilla extract. Add flour mixture and stir just until blended. Fold in cranberries and walnuts.

3. Pour batter into prepared pan. Bake 50 to 55 minutes or until toothpick inserted in center comes out clean. Cool loaf in pan on wire rack 15 minutes, then invert onto rack to cool completely. If not serving right away, wrap loaf in plastic wrap and store at room temperature up to 2 days.
Approximate nutritional values per serving: 192 Calories, 6g Fat (28% of total calories), 2g Saturated Fat (9% of total calories), 23mg Cholesterol, 214mg Sodium, 31g Carbohydrates, 3g Fiber, 5g Protein

Dietary Exchanges: 2 Starch; 1/2 Protein; 1 Fat