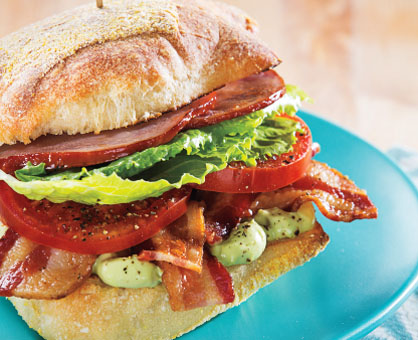 BBLT Sandwich with Avocado-Mayo
Prep: 10 minutes
Cook: 10 minutes • Serves: 4
12
slices smoked bacon
8
slices Canadian bacon
1/2
small ripe avocado
1/4
cup mayonnaise
1
pinch ground cayenne pepper
4
rolls or 8 slices whole wheat or favorite bread
8
slices tomato
1/8
teaspoon salt
1/8
teaspoon fresh ground black pepper
4
large romaine lettuce leaves, cut in half
1. Cook smoked bacon according to package directions. Transfer bacon to paper towels to drain. Meanwhile, in large skillet, in 2 batches, heat Canadian bacon over medium heat 3 to 4 minutes or until browned, turning once halfway through cooking.

2. In small bowl, mash avocado with fork until slightly chunky; stir in mayonnaise and cayenne pepper until well combined.

3. To serve, split rolls and toast. Evenly spread Avocado-Mayo over bottom halves of rolls. Over Avocado-Mayo, evenly layer smoked bacon and tomatoes; sprinkle tomatoes with salt and pepper. Over tomatoes, evenly layer lettuce and Canadian bacon; close sandwiches.

Approximate nutritional values per serving:
450 Calories, 30g Fat (15g Saturated), 41mg Cholesterol,
1187mg Sodium, 42g Carbohydrates, 7g Fiber, 20g Protein