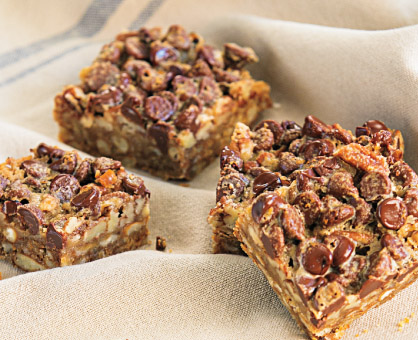 Pretzel Turtle Bars
Prep: 25 minutes plus cooling
Bake: 18 minutes • Makes: 24 bars
Nonstick cooking spray
2 cups packed light brown sugar
3/4 cup (1-1/2 sticks) plus 6 tablespoons unsalted butter
3/4 cup half and half
1 tablespoon vanilla extract
1/2 (16-ounce) bag pretzel sticks (about 5 cups)
1-1/2 cups semi-sweet chocolate chips
1-1/2 cups pecan pieces
1. Preheat oven to 350°. Spray 13 x 9-inch glass or ceramic baking dish with nonstick cooking spray.

2. In medium saucepot, cook 1-1/2 cups brown sugar,
6 tablespoons butter and half and half over medium heat 10 to 12 minutes or until mixture has thickened, whisking frequently. Whisk in vanilla; cook 2 minutes longer. Cool caramel in saucepot 15 minutes.

3. Meanwhile, in medium microwave-safe bowl, heat remaining 3/4 cup butter in microwave oven on high 2-1/2 to 3 minutes or until melted; let cool slightly.

4. Place pretzels in large zip-top plastic bag; seal bag pressing out excess air. Cover bag with towel; with rolling pin or dull side of meat mallet, coarsely crush pretzels (pieces should be about 1/4-inch long). You should have about 3 cups. Add remaining 1/2 cup brown sugar and crushed pretzels to melted butter; stir with wooden spoon until combined. With hands, evenly press pretzel mixture firmly into bottom of prepared dish. Evenly sprinkle chocolate chips and pecans over pretzel mixture; evenly pour caramel over top.

5. Bake 18 to 20 minutes or until top is golden brown. Cool in pan at least 2 hours before cutting into approximately 2-1/4-inch squares.


Approximate nutritional values per serving:
333 Calories, 19g Fat (10g Saturated), 25mg Cholesterol,
137mg Sodium, 39g Carbohydrates, 1g Fiber, 2g Protein