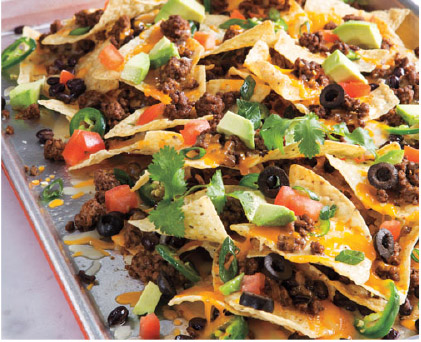 Sheet Tray Nachos
Prep: 15 minutes
Bake: 5 minutes • Serves: 6
3/4
pound lean ground beef, turkey or chicken
1/4
cup taco seasoning (from 1 package)
1
cup rinsed and drained canned black or pinto beans
10
cups tortilla chips (about 9 ounces)
1-1/2
cups shredded Cheddar and/or Monterey Jack cheese
1
large jalapeño chile pepper, thinly sliced (about 1/4 cup)
Toppings: diced avocado, chopped tomatoes, chopped green and/or red onions, sliced black olives, sour cream or Greek yogurt, salsa and/or chopped fresh cilantro leaves (optional)
1. Preheat oven to 325°. In large skillet, cook beef with taco seasoning as label directs; fold in beans.

2. On large rimmed baking pan, evenly spread chips. Over chips, evenly layer beef mixture, cheese and jalapeño. Bake 5 to 7 minutes or until cheese melts. Evenly sprinkle with toppings, if desired, and serve immediately.

Approximate nutritional values per serving:
423 Calories, 22g Fat (8g Saturated), 55mg Cholesterol,
672mg Sodium, 37g Carbohydrates, 4g Fiber, 22g Protein

Get Inspired
It's best to use sturdier tortilla chips to hold up to all the toppings. Switch things up by using scoop-style corn chips instead of tortilla chips.