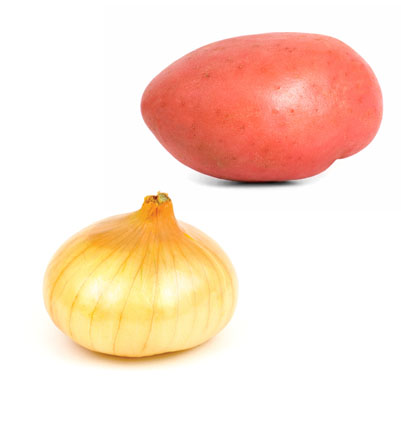 Roasted Onion & Red Potato Salad
Prep: 20 minutes plus standing & chilling
Roast: 35 minutes • Serves: 12
3
pounds red new potatoes, unpeeled, larger potatoes cut in half
3
small yellow onions, cut in half
1-1/2
tablespoons olive oil
2-1/2
teaspoons salt
2-1/4
teaspoons pepper
1/4
cup plus 1 tablespoon apple cider vinegar
1/4
red bell pepper, chopped
1
cup real mayonnaise
3/4
cup sour cream
1/4
cup plus 2 tablespoons sliced green onions
1-1/2
tablespoons Dijon mustard
1-1/2
tablespoons finely chopped fresh rosemary leaves
1-1/2
teaspoons Worcestershire sauce
1. Preheat oven to 350°. In large bowl, gently toss potatoes and onions with oil, 1 teaspoon salt and 1/2 teaspoon pepper so as not to break up onion. Transfer potato mixture to rimmed baking pan. Roast 35 minutes or until potatoes are fork-tender.

2. Let potato mixture stand 10 minutes or until cool enough to handle. Cut potatoes and onions into 1/2-inch wedges; transfer to large bowl. Add vinegar; refrigerate at least 45 minutes or up to overnight.

3. To serve, fold in remaining ingredients, 1-1/2 teaspoons salt and 1-3/4 teaspoons pepper. Makes about 8 cups.

Approximate nutritional values per serving:
252 Calories, 23g Fat (15g Saturated), 14mg Cholesterol,
687mg Sodium, 27g Carbohydrates, 3g Fiber, 3g Protein