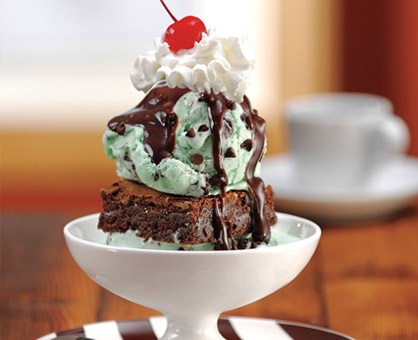 Minty Hot Fudge Brownie Sundae
Prep: 10 minutes plus cooling
Bake: 20 minutes • Serves: 9
Nonstick cooking spray
1/2 cup semi-sweet chocolate chips
4 tablespoons unsalted butter
2 large eggs
1 cup granulated sugar
1 teaspoon vanilla extract
1/4 teaspoon salt
3/4 cup all-purpose flour
1 jar (12 ounces) chocolate fudge topping
1 container (56 ounces) mint chocolate chip ice cream
Whipped cream and/or maraschino cherries (optional)

1. Preheat oven to 350°. Spray bottom of 9 x 9-inch baking pan with nonstick cooking spray. In small microwave-safe bowl, heat chocolate chips and butter in microwave oven on high 1 minute or until mixture is smooth, stirring every 30 seconds. Let stand at room temperature 10 minutes to cool.

2. In large bowl, whisk together eggs, sugar, vanilla extract and salt for 1 minute. Stir in cooled chocolate mixture, then fold in flour. Spread batter evenly into prepared pan. Bake 20 to 25 minutes or until toothpick inserted in center comes out clean. Cool brownie in pan on wire rack. Cut brownie into 9 squares.

3. To serve, heat fudge topping as label directs. Add 1 scoop ice cream into each of 9 dessert bowls, flattening ice cream slightly. Place 1 brownie over ice cream, then top with a second scoop of ice cream. Pour fudge topping over ice cream and garnish with whipped cream and a cherry, if desired.


Approximate nutritional values per serving:
630 Calories, 23g Fat (16g Saturated), 78mg Cholesterol,
239mg Sodium, 98g Carbohydrates, 2g Fiber, 11g Protein