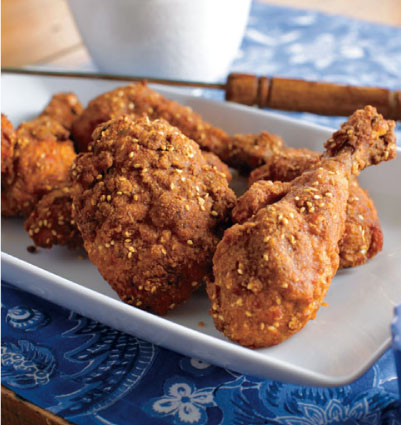 Southern-Style Sesame Fried Chicken
Prep: 15 minutes plus marinating
Cook: 25 minutes • Serves: 6
Marinade
1/2
cup buttermilk
1
tablespoon canola oil
1
tablespoon Dijon mustard
1
teaspoon hot sauce
1
teaspoon salt
4
pounds bone-in chicken pieces
Coating
1/2
cup all-purpose flour
1/2
cup cornstarch
2
tablespoons sesame seeds
2
teaspoons garlic powder
2
teaspoons onion powder
2
teaspoons smoked paprika
1
teaspoon salt
1
teaspoon black pepper
2
quarts (64 ounces) canola oil for frying
1. Prepare Marinade: In large bowl, combine buttermilk, oil, mustard, hot sauce and salt. Add chicken; toss until chicken is well coated. Cover with plastic wrap; refrigerate at least 4 hours or up to overnight.

2. Prepare Coating: In wide, shallow dish, combine all ingredients. Line rimmed baking pan with aluminum foil. Remove chicken from marinade, 1 piece at a time, dredge in flour mixture, shaking chicken to remove excess; place on prepared pan. Discard remaining marinade and flour mixtures.

3. Line rimmed baking pan with paper towels. In 4- to 6-quart saucepot, heat canola oil over medium-high heat 8 minutes or until oil reaches 350°.

4. With tongs, transfer half of the chicken pieces, 1 at a time, into hot oil. Cook chicken 13 to 15 minutes or until outside is golden brown and internal temperature of chicken reaches 165°, turning once halfway through cooking. With tongs, transfer chicken to paper towel-lined pan to drain. Repeat with remaining half of chicken. Serve immediately with your favorite dipping sauces.

Approximate nutritional values per serving:
724 Calories, 55g Fat (10g Saturated), 119mg Cholesterol,
911mg Sodium, 19g Carbohydrates, 1g Fiber, 32g Protein