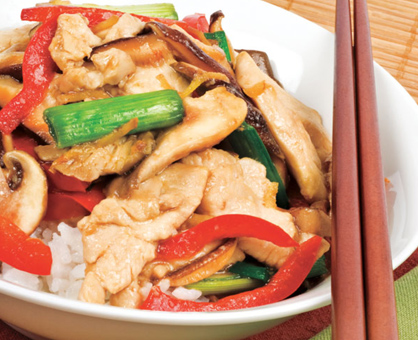 Chicken & Mushroom Stir-Fry
Prep: 35 minutes • Cook: 15 minutes • Serves: 4

1 tablespoon vegetable oil
1-1/4 pounds boneless, skinless chicken breasts, cut into 2-inch pieces
1 red bell pepper, thinly sliced
1 small yellow onion, thinly sliced
1 package (8 ounces) sliced white mushrooms
1 package (3.5 ounces) sliced shiitake mushrooms
3 garlic cloves, crushed with press
1 teaspoon peeled and grated fresh ginger
4 green onions, cut into 2-inch pieces
2 tablespoons low-sodium soy sauce
1 teaspoon sesame oil
2 cups cooked white rice
1.In large nonstick skillet, heat vegetable oil over medium heat 1 minute. Add chicken and cook 6 minutes or until lightly browned, stirring occasionally. With slotted spoon, remove chicken from pan.
2.Increase heat to medium-high. Add bell pepper and yellow onion, and cook 2 minutes, stirring frequently. Stir in mushrooms, garlic and ginger, and cook 3 minutes. Return chicken to skillet. Stir in green onions and soy sauce, and cook 3 minutes longer. Remove skillet from heat and stir in sesame oil. Serve stir-fry over rice.
Approximate nutritional values per serving: 339 Calories, 7g Fat (19% of total calories), 1g Saturated Fat (3% of total calories), 66mg Cholesterol, 382mg Sodium, 38g Carbohydrates, 3g Fiber, 32g Protein
Dietary Exchanges: 2-1/2 Starch; 4-1/2 Protein; 1 Fat