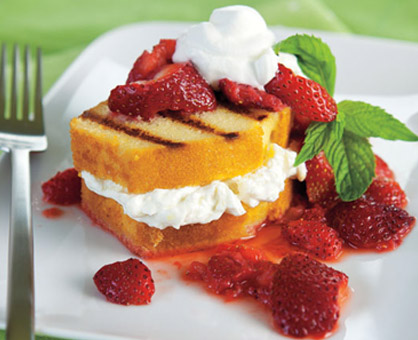 Strawberries and Cream Grilled Pound Cake
Prep: 15 minutes
Grill: 3 minutes • Serves: 4
1 package (16 ounces) fresh strawberries, hulled and cut into 1/2-inch pieces (about 3 cups)
2 tablespoons granulated sugar
2 tablespoons water
1 cup whipped cream cheese (about 6.5 ounces)
1/4 cup powdered sugar
1/2 teaspoon vanilla extract
1 pound cake (about 11.5 ounces)
Nonstick cooking spray
1 cup whipped topping, thawed
Mint leaves for garnish (optional)

1. 1. In medium bowl, toss strawberries with granulated sugar and water. If not serving right away, cover and refrigerate up to 4 hours.

2. Prepare outdoor grill for direct grilling over medium heat. In medium bowl, stir together cream cheese, powdered sugar and vanilla extract until smooth.
3. Slice pound cake crosswise into 8 equal slices. Evenly spread cream cheese mixture on 1 side of 4 slices of cake. Place remaining 4 slices over cream cheese mixture to close sandwiches. Lightly spray outsides of sandwiches with nonstick cooking spray.

4. Grill pound cake sandwiches 3 to 4 minutes or until grill marks appear, turning once halfway through cooking. Serve topped with strawberry mixture and whipped topping; garnish with mint leaves, if desired.

Approximate nutritional values per serving:
591 Calories, 30g Fat (20g Saturated), 145mg Cholesterol,
602mg Sodium, 75g Carbohydrates, 2g Fiber, 7g Protein

Chef Tip

Pound cake sandwiches can also be grilled on a grill pan.