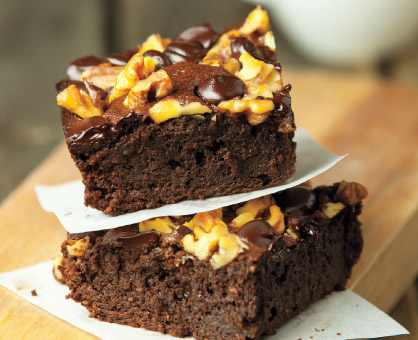 Chocolate Chunk-Walnut Brownies
Prep: 15 minutes
Bake: 50 minutes • Makes: 9 brownies
Nonstick cooking spray
1
package (11.5 ounces) 60% cocoa bittersweet chocolate chips (2 cups)
1/2
cup unsalted butter (1 stick), softened
1
cup firmly packed light brown sugar
2
teaspoons pure vanilla extract
1/4
teaspoon salt
3
large eggs
1/2
cup all-purpose flour
1/3
cup sour cream
1/2
cup chopped walnuts
1. Preheat oven to 350°. Spray bottom of 9 x 9-inch glass or ceramic baking dish with nonstick cooking spray. In microwave-safe medium bowl, heat 1-1/2 cups chocolate chips and 2 tablespoons butter in microwave oven on high 1-1/2 to 2 minutes or until chocolate is almost melted, stirring every 30 seconds; cool slightly.

2. In large bowl, with mixer on medium speed, beat sugar, vanilla, salt and remaining 6 tablespoons butter 2 to 3 minutes or until light and creamy. Beat in eggs 1 at a time until incorporated. With mixer on low speed, beat in chocolate mixture; beat in flour and sour cream. Pour batter into prepared baking dish; sprinkle remaining 1/2 cup chocolate chips and walnuts evenly over batter.

3. Bake brownie 45 to 50 minutes or until toothpick inserted in center comes out clean. Cool brownie in pan on wire rack. Cut into 9 brownies.

Approximate nutritional values per serving:
468 Calories, 28g Fat (15g Saturated), 102mg Cholesterol,
99mg Sodium, 54g Carbohydrates, 3g Fiber, 6g Protein