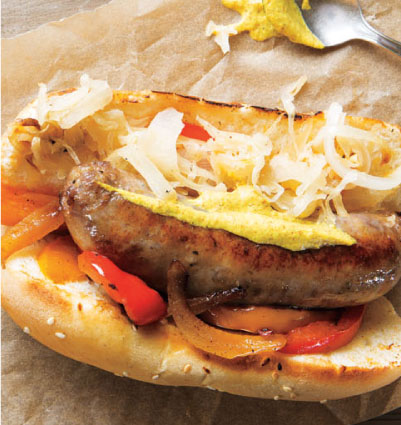 Beer-Brats with Sauerkraut
Prep: 15 minutes
Cook: 22 minutes • Serves: 6
Sauerkraut
3
tablespoons unsalted butter
1/2
medium white onion, thinly sliced (about 3/4 cup)
1
bag (1 pound) sauerkraut, drained
1
tablespoon granulated sugar
1/2
teaspoon kosher salt
1/2
teaspoon ground black pepper
Beer-Brats
1
tablespoon olive oil
6
uncooked Johnsonville® Original or Beer 'n Bratwurst sausages
2
medium bell peppers, each sliced 1/2-inch-thick (about 3 cups)
1
medium yellow onion, sliced (about 1-1/2 cups)
1/4
teaspoon kosher salt
1/2
teaspoon ground black pepper
2
bottles (12 ounces each) lager beer
6
hoagie buns
1. Prepare Sauerkraut: In large skillet, melt butter over medium heat; add onion and cook 8 to 10 minutes or until onions are golden brown. Stir in sauerkraut, sugar, salt and pepper, and cook 2 minutes,
stirring frequently.

2. Meanwhile, prepare Beer-Brats: Heat oil in large saucepot over medium-high heat. Add bratwurst and cook 3 to 4 minutes or until browned, turning frequently; remove bratwurst. Add peppers and onion to same saucepot and cook 5 minutes or until tender, stirring frequently; stir in salt and pepper.

3. Add beer and bratwurst to saucepot. Heat to simmering over medium-high heat; reduce heat to medium and simmer 9 to 10 minutes or until internal temperature of bratwurst reaches 160°.

4. Strain bratwurst and vegetables; discard beer. Serve bratwurst and vegetables in buns topped with sauerkraut and your favorite spicy mustard.

Approximate nutritional values per serving:
594 Calories, 33g Fat (12g Saturated), 67mg Cholesterol,
1516mg Sodium, 51g Carbohydrates, 5g Fiber, 21g Protein