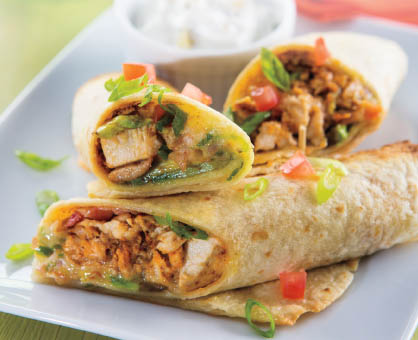 Easy Southwest Chicken Spring Rolls
Prep: 25 minutes
Bake: 5 minutes • Serves: 8
Spring Rolls
2
cups shredded rotisserie chicken meat (from 1 chicken)
1
teaspoon chili powder
1
teaspoon ground cumin
1
teaspoon salt
1/2
teaspoon ground cayenne pepper
8
(6-inch) flour tortillas
1
tablespoon unsalted butter, softened
4
slices fully cooked bacon, chopped
3
green onions, sliced (about 1/4 cup)
1
small avocado, thinly sliced
1
small jalapeño pepper, seeds removed and finely chopped (about 2 tablespoons)
1
small tomato, finely chopped (about 1/2 cup)
1/2
cup shredded Monterey Jack Cheese
Creamy Chili Dip
1
can (4 ounces) diced mild green chiles
1
cup sour cream
1
tablespoon fresh lime juice
1. Prepare Spring Rolls: Preheat oven to 450°. In medium bowl, combine chicken, chili powder, cumin, salt and cayenne. Evenly brush 1 side of each tortilla with butter; turn tortillas over.

2. On bottom half of each tortilla, in about 2-inch strip, evenly layer one-eighth of the bacon, chicken mixture, green onions, avocado, jalapeño, tomatoes and cheese. Starting from bottom, tightly roll tortilla to enclose filling; place rolls, seam side down, on cookie sheet. Bake 5 to 7 minutes or until lightly browned.

3. Meanwhile, prepare Creamy Chili Dip: In small bowl, stir all ingredients until well combined. Makes about 1-1/4 cups.

4. To serve, cut rolls in half and serve with dip.

Approximate nutritional values per serving
(1 roll and 2-1/2 tablespoons dip):
319 Calories, 18g Fat (8g Saturated), 64mg Cholesterol,
847mg Sodium, 23g Carbohydrates, 3g Fiber, 16g Protein

Get Inspired!
For spicier shrimp, add 1 teaspoon ground cayenne pepper to flour mixture. To make Coconut Shrimp gluten-free, replace the all-purpose flour with rice flour.
Try using your favorite fruit preserves or marmalade for the dipping sauce. For a spicy dipping sauce, add 1 tablespoon Sriracha chile sauce.
To fry Coconut Shrimp: Heat large skillet over medium-high 3 minutes. Add 1 cup canola oil and heat 3 to 5 minutes or until oil reaches 325°. In batches, cook shrimp 4 to 6 minutes or until golden brown, turning once halfway through cooking.