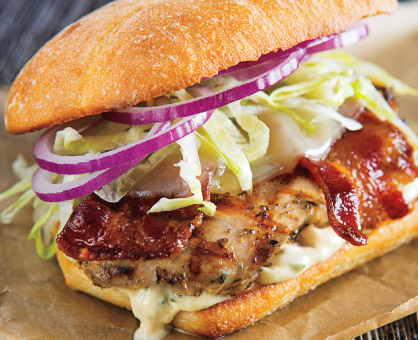 Bacon-Provolone Chicken Sandwich with Herb-Mayo
Prep: 15 minutes plus marinating
Cook: 8 minutes • Serves: 4
4
boneless, skinless chicken breasts, tenders removed
(about 6 ounces each)
1/2
cup red wine vinegar
1/3
cup olive oil
1
tablespoon dried Italian seasoning
1/2
teaspoon salt
1/4
teaspoon ground black pepper
1/2
cup mayonnaise
2
teaspoons Dijon mustard
1
teaspoon chopped fresh rosemary leaves
4
slices fully cooked bacon, cut crosswise in half
4
slices Provolone cheese
4
sandwich rolls, split
1
cup shredded lettuce
2
large red onion slices, separated into rings
1. Place chicken breasts between plastic wrap on work surface. With flat end of meat mallet, pound chicken to flatten slightly; remove plastic wrap. In large bowl, whisk together vinegar, oil, Italian seasoning, salt and pepper. Add chicken to bowl, turning to evenly coat. Cover with plastic wrap and refrigerate 30 minutes.

2. Meanwhile, in small bowl, stir mayonnaise, mustard and rosemary.

3. Prepare outdoor grill for direct grilling over medium heat (or preheat grill pan over medium heat). Remove chicken from marinade; discard marinade. Place chicken on hot grill rack; cover and cook 4 to 5 minutes or until grill marks appear. Turn chicken; top each with 2 pieces bacon and 1 slice cheese. Cover and cook 4 to 5 minutes longer or until chicken loses its pink color throughout and internal temperature reaches 165°.

4. To serve, toast rolls. Evenly spread mayonnaise mixture over bottom half of rolls; top each with 1 chicken breast. Evenly layer lettuce and onions over chicken; close sandwiches.

Approximate nutritional values per serving:
758 Calories, 56g Fat (29g Saturated), 115mg Cholesterol,
1366mg Sodium, 44g Carbohydrates, 4g Fiber, 44g Protein