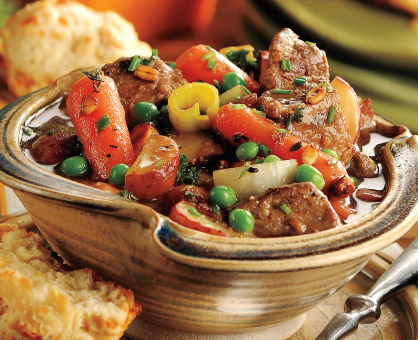 Beef Slow Cooker Irish Stew
Prep: 40 minutes
Cook: 7 hours 20 minutes • Serves: 8
2
tablespoons vegetable oil
2-1/2
pounds boneless sirloin tip roast, fat trimmed, cut into 1-1/2-inch pieces
1-1/2
pounds baby red-skinned potatoes, scrubbed and quartered
4
sprigs fresh thyme
2
garlic cloves, sliced
2
medium leeks, halved lengthwise and sliced 1/2-inch thick
1
bay leaf
1
medium yellow onion, cut into wedges
8
cups low sodium beef broth
2
cups baby carrots
1/2
cup barley
1/4
cup coarsely chopped fresh parsley leaves plus additional for garnish
1
tablespoon Worcestershire sauce
1
cup warm water
3/4
cup all-purpose flour
1-1/2
cups frozen peas
1-1/2
tablespoons red wine vinegar
1
teaspoon kosher salt
1/2
teaspoon ground black pepper
Chopped fresh chives for garnish
1. In large skillet, heat oil over medium-high heat. In 2 batches, add beef and cook each batch 3 to 5 minutes or until beef is browned, stirring occasionally. Transfer beef to 5- to 6-quart slow cooker.

2. Add potatoes, thyme, garlic, leeks, bay leaf, onion, broth, carrots, barley, parsley and Worcestershire sauce. Cover and cook on low 7 to 8 hours or until beef and potatoes are tender.

3. In medium bowl, whisk together water and flour; stir into slow cooker. Increase heat to high, cover and cook 15 minutes. Stir in peas and vinegar; cover and cook 3 minutes. Remove and discard bay leaf and thyme stems. Season with salt and pepper. Serve garnished with parsley and chives.

Approximate nutritional values per serving:
445 Calories, 9g Fat (2g Saturated), 68mg Cholesterol,
367mg Sodium, 48g Carbohydrates, 7g Fiber, 42g Protein

Get Inspired!
Traditional Irish stew is made with lamb, but this recipe uses tender morsels of sirloin tip roast. Make the stew a day or two in advance, then heat and serve when you're ready to enjoy.