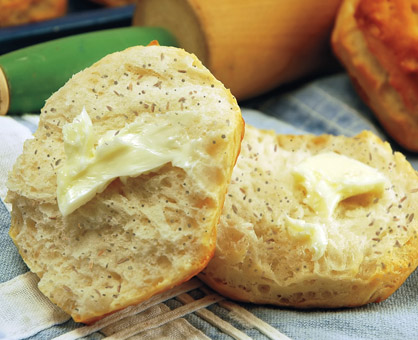 Prep: 25 minutes • Bake: 12 minutes
Makes: about 20 biscuits
Nonstick baking spray
4 cups all-purpose flour plus additional for dusting
4 teaspoons baking powder
2 teaspoons granulated sugar
1 teaspoon salt
1/2 teaspoon baking soda
1 tablespoon each finely chopped fresh basil, parsley, rosemary
and thyme leaves
3/4 cup cold unsalted butter (1-1/2 sticks), cut into small pieces
1/2 cup cold vegetable shortening
1-1/2 cups cold buttermilk
1 large egg
1 tablespoon vitamin D whole milk
1. Preheat oven to 425°. Spray rimmed baking pan with nonstick baking spray. In large bowl, whisk together flour, baking powder, sugar, salt and baking soda; stir in herbs. With fingertips, work in butter and shortening until pea-sized crumbs form. Make a well in center of dry ingredients and add buttermilk. With wooden spoon, gently mix until dough forms a ball.
2. Lightly dust work surface with flour. Transfer dough to floured surface and fold dough over onto itself several times to evenly distribute moisture. With rolling pin, roll dough into 10-inch round, about 3/4-inch thick. With floured 2-1/2- to 3-inch round biscuit cutter or glass, cut rounds by pressing straight down and coming up without twisting cutter. Place biscuits in single layer 1-1/2 inches apart on prepared baking pan. Gather scraps and re-roll to cut additional biscuits.

3. In small bowl, whisk together egg and milk. Brush top of biscuits with egg mixture. Bake biscuits 12 to 14 minutes or until tops are golden brown. Transfer biscuits to wire rack; serve warm.

Approximate nutritional values per serving (1 biscuit):
216 Calories, 13g Fat (7g Saturated), 32mg Cholesterol,
263mg Sodium, 21g Carbohydrates, 1g Fiber, 4g Protein