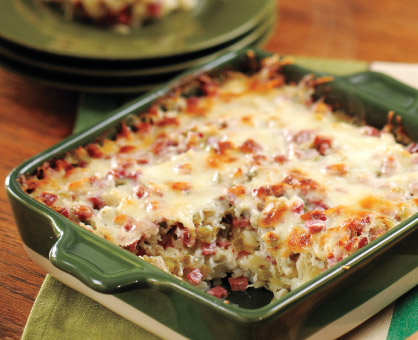 Prep: 25 minutes
Bake: 25 minutes • Serves: 8
1 tablespoon unsalted butter or vegetable oil
1 green bell pepper, diced
1 medium onion, diced
1 can (14.5 ounces) sauerkraut, drained
3 (1/4-inch-thick) slices deli corned beef (about 1-1/4 pounds), cut into 1/4-inch pieces (or 3-1/2 cups shredded or diced leftover cooked corned beef)
1/2 cup red wine vinegar
1-1/2 teaspoons caraway seeds
1 can (10-3/4 ounce) condensed cream of onion soup
1/3 cup sweet pickle relish
1/4 cup ketchup
1 bag (20 ounces) refrigerated shredded hash browns
8 ounces shredded Swiss cheese (2 cups)

1. Preheat oven to 375°. In large skillet, melt butter over medium heat. Add bell pepper and onion, and cook 6 to 7 minutes or until vegetables are tender. Stir in sauerkraut, corned beef, 1/4 cup vinegar and caraway seeds, and cook 3 minutes or until heated through, stirring frequently.

2. In medium bowl, stir together soup, relish, ketchup and remaining 1/4 cup vinegar. In 9 x 9-inch glass or ceramic baking dish, spread hash browns to cover bottom of dish. Spread half the soup mixture over potatoes (about 1 cup); sprinkle with half (about 1 cup) of the cheese. Evenly spread corned beef mixture over cheese; top with remaining soup mixture and cheese.

3. Bake 25 to 30 minutes or until top is lightly browned. Makes about 10 cups.


Approximate nutritional values per serving:
359 Calories, 14g Fat (8g Saturated), 72mg Cholesterol,
1480mg Sodium, 30g Carbohydrates, 4g Fiber, 28g Protein