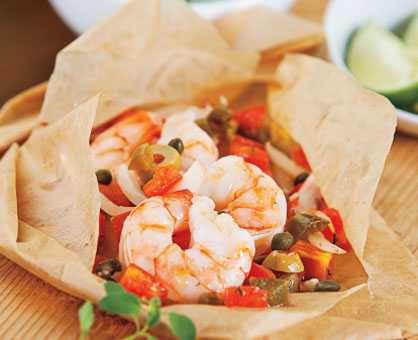 Grilled Shrimp Packets
Prep: 20 minutes
Bake: 10 minutes • Serves: 4
1
cup basmati rice
4
large Roma tomatoes (about 1 pound), chopped (about 2 cups)
2
garlic cloves, minced
1/2
small yellow onion, thinly sliced (about 1/2 cup)
1/2
cup drained sliced salad olives
1/3
cup drained and chopped pickled jalapeño slices
2
tablespoons rinsed and drained capers
1
tablespoon finely chopped fresh oregano leaves
1
tablespoon fresh lime juice
4
teaspoons olive oil
2
teaspoons lime zest
1-1/4
pounds raw 21-25 count peeled and deveined shrimp, thawed if necessary
1. Preheat oven to 400°. Prepare rice as label directs.

2. Meanwhile, in medium bowl, toss tomatoes, garlic, onion, olives, jalapeños, capers, oregano, lime juice, oil and lime zest until well combined.

3. Cut four 15 x 18-inch sheets parchment paper. Place 1 sheet parchment on work surface. Arrange about 1 cup of tomato mixture on half of parchment sheet; place 1/4 of shrimp (about 7 shrimp) over tomato mixture. Fold parchment over to cover shrimp and tomato mixture. Fold edges several times to seal tightly. Repeat with remaining parchment sheets, tomato mixture and shrimp.

4. Place parchment packets on rimmed baking pan. Bake 10 minutes or until shrimp reaches an internal temperature of 145° and turns opaque throughout. With kitchen shears, cut an X in top of parchment packets, then carefully pull back parchment to open.

5. To serve, evenly divide rice over 4 dinner plates, then pour 1 packet over rice.

Approximate nutritional values per serving:
386 Calories, 11g Fat (1g Saturated), 183mg Cholesterol,
717mg Sodium, 41g Carbohydrates, 2g Fiber, 29g Protein

Get Inspired
Packets can also be prepared with foil instead of parchment paper. If prepared with foil, packets can be grilled, covered, over medium heat for 10 minutes.