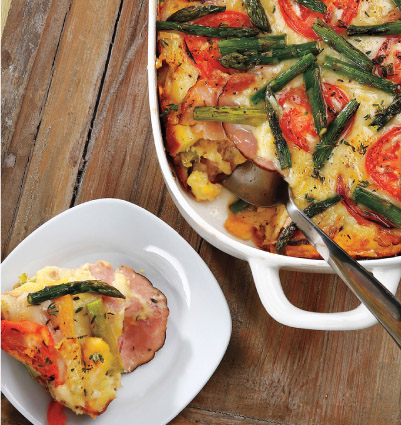 Ham, Asparagus & Gruyère Strata
Prep: 35 minutes plus standing
Bake: 1 hour • Serves: 12
2
teaspoons unsalted butter
3/4
(15-ounce) loaf Challah bread, cut into 1/2-inch slices
1
pound thinly shaved ham
1
pound Gruyère cheese, shredded (about 4 cups)
2
large Roma tomatoes, thinly sliced
1
bunch asparagus (about 1 pound), cut crosswise into 1-1/2-inch pieces (about 3 cups)
15
large eggs
1/4
cup heavy cream
1
tablespoon chopped fresh thyme leaves plus additional for garnish (optional)
1/4
teaspoon salt
1/8
teaspoon ground black pepper
1. Grease 13 x 9-inch or 3-quart glass or ceramic baking dish with butter.

2. In bottom of prepared dish, using half of each, evenly layer bread, tearing to fit if necessary, ham, cheese, tomatoes and asparagus; repeat layers with remaining half of each ingredient.

3. In large bowl, whisk eggs; add cream, thyme, salt and pepper, and whisk until blended. Evenly pour egg mixture over bread mixture; cover and refrigerate at least 4 hours or up to overnight.

4. Preheat oven to 350°. Bake strata, uncovered, 1 hour or until top is golden brown, toothpick inserted in center comes out clean and internal temperature reaches 165°. Let stand 10 minutes; sprinkle with thyme, if desired, to serve.

Approximate nutritional values per serving:
404 Calories, 23g Fat (12g Saturated), 328mg Cholesterol,
903mg Sodium, 17g Carbohydrates, 1g Fiber, 28g Protein