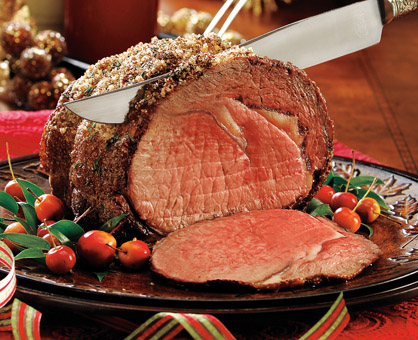 Holiday Beef Roast with Mushroom-Thyme Jus
Prep: 40 minutes
Roast: 2 hours • Serves: 10
Beef Roast
6 garlic cloves, chopped
2 tablespoons chopped fresh rosemary leaves
2 tablespoons olive oil
1 tablespoon chopped fresh thyme leaves
2-1/2 teaspoons kosher salt
1 teaspoon fresh ground black pepper
1 (4-1/2- to 5-1/2-pound) beef rib eye roast or Delmonico roast
Mushroom-Thyme Jus
1 package (8 ounces) baby bella mushrooms, each cut in half
1 garlic clove, chopped
2 teaspoons chopped fresh thyme leaves
2 cans (14 ounces each) less-sodium beef broth
1 tablespoon cornstarch
1/4 teaspoon kosher salt
1/4 teaspoon fresh ground black pepper
1. Prepare Beef Roast: In small bowl, mix garlic, rosemary, oil, thyme, salt and pepper. Place roast, fat side up, in shallow roasting pan; rub with garlic mixture. Let stand 30 minutes. Meanwhile, preheat oven to 325°.
2. Roast beef 2 to 2-1/2 hours or until internal temperature reaches 135°. Transfer roast to cutting board; loosely tent with aluminum foil. Let stand 15 minutes. (Internal temperature will rise to 145° upon standing for medium-rare.)

3. Meanwhile, prepare Mushroom-Thyme Jus: Drain excess fat from roasting pan; place pan with drippings over medium heat. Add mushrooms and cook 1 minute. Stir in garlic and thyme, and cook 1 minute. In cup, reserve 1 tablespoon broth. Stir remaining broth into pan and simmer 5 minutes. Whisk cornstarch into reserved broth and whisk mixture into pan. Heat to boiling; boil 1 minute. Stir in salt and pepper.
4. Slice roast and serve with jus.

Approximate nutritional values per serving:
604 Calories, 40g Fat (18g Saturated), 142mg Cholesterol,
783 mg Sodium, 3g Carbohydrates, 1g Fiber, 42g Protein