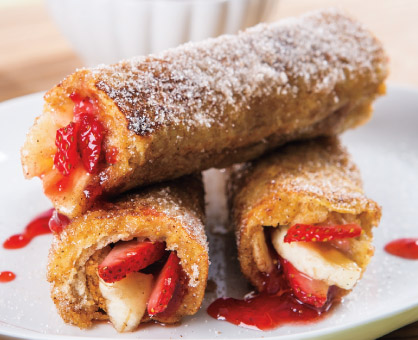 Fruit Stuffed French Toast Rolls
20 minutes
Cook: 10 minutes • Serves: 6
12 slices whole grain sandwich bread, crusts removed
6 tablespoons almond, cashew, peanut or sunflower butter
6 tablespoons raspberry or strawberry preserves
6 large strawberries, thinly sliced
1/2 medium banana, thinly sliced
1 large egg
1 large egg white
3 tablespoons almond milk
1-1/2 tablespoons granulated sugar
1-1/2 teaspoons ground cinnamon
Nonstick cooking spray
1/2 cup maple syrup
1. With rolling pin, flatten bread.

2. Spread 1/2 tablespoon almond butter in 2 strips on opposite edges of each slice of bread. Over 1 strip almond butter on each slice of bread, spread 1/2 tablespoon preserves; evenly top with strawberries and banana. Starting on edge with fruit, roll up each slice of bread to enclose filling.
3. In shallow bowl, whisk together egg, egg white and almond milk. In separate shallow bowl, combine sugar and cinnamon.

4. Heat large skillet or griddle over medium heat; spray with nonstick cooking spray. In batches, dip each roll in egg mixture, then place, seam side down, in skillet. Cook 5 to 6 minutes or until golden brown, turning to cook all sides and spraying skillet with additional cooking spray as needed. Immediately transfer rolls to cinnamon-sugar mixture, turning to coat. Serve with maple syrup for dipping.


Approximate nutritional values per serving (2 rolls):
403 Calories, 11g Fat (1g Saturated), 31mg Cholesterol,
254mg Sodium, 65g Carbohydrates, 7g Fiber, 12g Protein