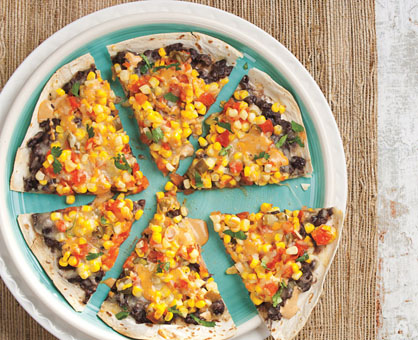 Prep: 20 minutes
Grill: 5 minutes • Serves: 4
2 tablespoons olive oil
2 medium tomatoes, chopped
1/2 small white onion, finely chopped (about 1/2 cup)
3 cups fresh corn kernels (from about 6 ears) or frozen whole kernel corn
1/4 teaspoon salt
3 tablespoons drained and chopped pickled jalapeño peppers
1/2 cup sour cream
1/4 cup mild enchilada sauce
2 cans (15 ounces each) black beans,
drained, 1/4 cup drained liquid reserved
4 (8-inch) flour tortillas
2 cups finely shredded Cheddar Jack cheese blend
1/2 cup chopped fresh cilantro leaves

1. Prepare outdoor grill for direct grilling over medium-low heat. In large nonstick skillet, heat oil over medium-high heat. Add tomatoes, onion, corn and salt; cook 5 minutes, stirring occasionally. Stir in jalapeños.

2. Meanwhile, in small bowl, stir together sour cream and enchilada sauce. In medium bowl, coarsely mash beans with reserved liquid.

3. Place 2 tortillas in single layer on each of 2 rimmed baking pans. Spread about 1/2 cup beans over each tortilla. Evenly distribute corn mixture over beans and top with cheese.

4. Place pizzas on hot grill rack; cover and cook 5 minutes or until cheese melts and tortillas are crisp, rotating pizzas occasionally. Transfer pizzas to same baking pans. To serve, cut each pizza into 6 wedges; drizzle with sour cream mixture and sprinkle with cilantro.


Approximate nutritional values per serving:
754 Calories, 32g Fat (15g Saturated), 64mg Cholesterol,
1907mg Sodium, 90g Carbohydrates, 12g Fiber, 32g Protein