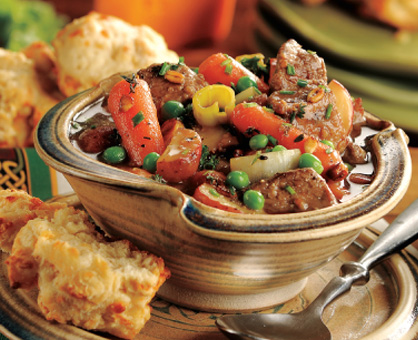 Beef Slow Cooker Irish Stew
Prep: 40 minutes • Cook: 7 hours 20 minutes • Serves: 8

2 tablespoons vegetable oil
2-1/2 pounds boneless sirloin tip roast, fat trimmed, cut into 1-1/2-inch pieces
1-1/2 pounds baby red-skinned potatoes, scrubbed and quartered
4 sprigs fresh thyme
2 garlic cloves, sliced
2 medium leeks, halved lengthwise and sliced
1/2-inch thick
1 bay leaf
1 medium yellow onion, cut into wedges
8 cups low sodium beef broth
2 cups baby carrots
1/2 cup barley
1/4 cup coarsely chopped fresh parsley leaves plus additional for garnish
1 tablespoon Worcestershire sauce
1 cup warm water
3/4 cup all-purpose flour
1-1/2 cups frozen peas
1-1/2 tablespoons red wine vinegar
1 teaspoon kosher salt
1/2 teaspoon ground black pepper
Chopped fresh chives for garnish
1. In large skillet, heat oil over medium-high heat. In 2 batches, add beef and cook each batch 3 to 5 minutes or until beef is browned, stirring occasionally. Transfer beef to 5- to 6-quart slow cooker.

2. Add potatoes, thyme, garlic, leeks, bay leaf, onion, broth, carrots, barley, parsley and Worcestershire sauce. Cover and cook on low 7 to 8 hours or until beef and potatoes are tender.

3. In medium bowl, whisk together water and flour; stir into slow cooker. Increase heat to high, cover and cook 15 minutes. Stir in peas and vinegar; cover and cook 3 minutes. Remove and discard bay leaf and thyme stems. Season with salt and pepper. Serve garnished with parsley and chives.

Approximate nutritional values per serving: 445 Calories, 9g Fat (18% of total calories), 2g Saturated (4% total calories), 68mg Cholesterol, 367mg Sodium, 48g Carbohydrates, 7g Fiber, 42g Protein

Dietary Exchanges: 3 Starch; 6 Protein; 2 Fat