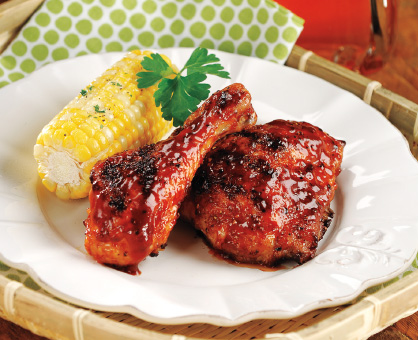 Prep: 10 minutes
Grill: 35 minutes • Serves: 8

1-1/2 tablespoons paprika
1 tablespoon Cajun seasoning
1 tablespoon packed light brown sugar
2 teaspoons kosher salt
1/4 teaspoon ground black pepper
1/4 teaspoon garlic powder
5 pounds bone-in chicken pieces
1-1/2 cups barbeque sauce

1. Prepare outdoor grill for direct grilling over high heat. In small bowl, mix paprika, Cajun seasoning, sugar, salt, pepper and garlic powder. Trim excess fat from chicken. Rub all sides of chicken with seasoning mixture.
2. Place chicken, skin side down, on hot grill rack. Cover and cook 4 to 5 minutes or until outside of chicken is seared, watching carefully for flare-ups. If flare-ups occur, open grill and move chicken to outside, or cooler, part of grill.
3. Reduce heat to medium. Turn chicken skin side up. Cover and cook 30 to 35 minutes longer, turning occasionally and watching carefully for flare-ups. Brush skin side of chicken liberally with some of the barbeque sauce during last 10 minutes of cooking.
4. Turn off grill, cover and let stand 5 to 10 minutes. Chicken should reach an internal temperature of 165° and juices should run clear when chicken is pierced with a knife. Serve with any remaining barbeque sauce for dipping.

Approximate nutritional values per serving: 335 Calories,
14g Fat (4g Saturated), 86mg Cholesterol, 878mg Sodium,
28g Carbohydrates, 1g Fiber, 22g Protein